Some people are weather wise, but most are otherwise..."

-Benjamin Franklin
Forecasts from the National Weather Service (NWS), local media and on the internet may serve the public interest just fine, but how often are you expected to make key business decisions based on a vague, non specific forecast?
Typical "generic" forecast provided by National Weather Service (NWS):

The bad news is, that's exactly the type of "forecast" that we see the NWS issue every single day across the country. The good news is - there is a better alternative - and it's one that is customized to fit your specific operational needs and concerns!
For over 25 years we've been providing detailed, highly customized weather information, forecasts and storm warnings for a variety of industries across the U.S. So, whether you need a detailed, hour by hour forecast for the next few days or a 10 day outlook for planning purposes (or both), we've got you covered - all in a format that is custom designed for your business and your business alone!
Example of a WeatherGuidance site-specific, hourly precipitation forecast: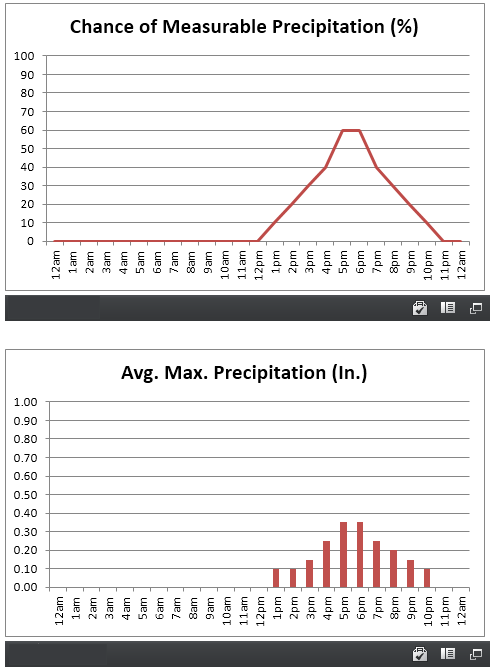 No matter what your specific operational needs and concerns, when it comes to the weather - we've got you covered - 24/7/365.
Feel free to browse around the tabs toward the middle section of the page to learn more about the other two key aspects of our Custom Weather Forecast Services: Site Specificity and Alerting/Monitoring. If you've already seen enough and are ready to test our service in real time, please fill out the short form below and we'll get started right away:

Have a Question or Need Help?
Do you have a question that you'd like to ask before signing up for a free trial? Feel free to call us at (512) 504-3151, e-mail us, or use the online chat located in the lower left hand corner of your screen.