Some people are weather wise, but most are otherwise..."

-Benjamin Franklin
Weather forecasts and warnings prepared by the government and dissiminated via local media and the internet typically serve the public at large just fine - but not an operation where the weather has a direct impact on your employees, customers and the bottom line!
That's where HazardWarn® comes in.

HazardWarn® was specifically designed for our clients in the insurance, risk management, disaster recovery/response and retail industries. While the service is most applicable to those industries, it also has a myriad of potential applications to most any weather sensitive organization that operates over medium to large geographic areas.
The information and examples below are generally geared toward the insurance industry, but keep in mind that each HazardWarn® package is completely customized to fit the specific operational needs and concerns of the individual customer. After all, hiring us is like creating your own in-house weather department - staffed 24/7/365 to give you only the information you need - exactly how and when you need it.
Fully customized weather monitoring
Whether you prefer to monitor the weather yourself, or you wish for us to handle the situation entirely, we'll design a custom HazardWarn solution to fit your specific needs and concerns, keeping bottom line budgetary matters in mind all the while.
Most of our HazardWarn customers utilize a combination of self monitoring and custom alerts/warnings from our professional staff. This allows you the flexibility to keep an eye on the weather as time permits, but ultimately leave the worries to us, knowing that we'll alert you whenever your undivided attention is warranted.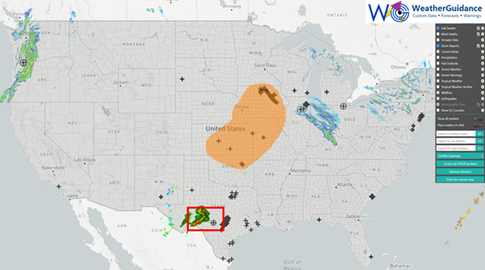 Key features of a typical HazardWarn service include:


•Live, fully interactive weather radar with street level pan and zoom
•Fully customized data layers/overlays such as geographic territories, location markers, etc.
•Customized weather data layers such as storm reports, storm damage path mapping, etc.
•Our professional monitoring for specific hazards within your operating area(s) 24/7/365
•Customized forecasts, alerts and warnings of imminent hazards within designated areas
•Phone and/or live chat consultation with our professional staff 24/7/365


Custom, innovative alert solutions
We pride ourselves in developing custom solutions at the cutting edge of technology for our customers. Once such initiative surrounds an innovative loss mitigation solution for the insurance industry, and is included as an option within the HazardWarn suite of services.
As a part of our HazardWarn InsAlert program, your insureds have the option of "opting in" to receive fully customized e-mail and/or text alerts of impending hazards: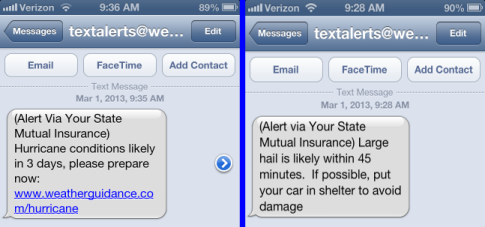 Using state of the art GIS technology, our staff of highly trained professionals can issue an alert down to near city block level for your insureds in the event of an impending hail storm, for example. Blanket alerts with safety and preparedness information are also available for larger scale threats such as hurricanes, floods and wild fires.
If you're not ready to take the jump to this innovative technology for your end users/customers, we can certainly provide the service to key members of your staff as you see fit, with the option to expand the program at any time (both internally and externally).
Exclusive post-event analysis
HazardWarn® customers have access to expert, post-event analysis of every significant (as defined by the user) severe weather episode from our team of forensic weather specialists.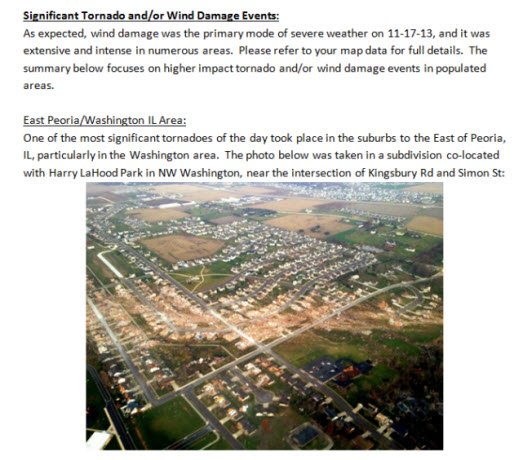 This report, known as the StormIntelligence® Summary Report, is issued early in the morning following all significant severe weather episodes containing hail, damaging wind and/or tornado activity around the country, and is quickly becoming known as "The Wall Street Journal" of post-catastrophe weather resources for claims experts and the executive ranks alike.
Each StormIntelligence® Summary Report includes:
•Detailed analysis of all severe weather impacts on populated areas
•Detailed description of impacts by population and single family home density and valuation matrices
•"First on scene" photos and videos of damage impact areas
•Detailed tornado track and intensity data
Start your free trial today!
The best way to evaluate our HazardWarn® service is to try it out in real time, and we'd like to give you just such an opportunity - without cost or obligation. Please follow the link below, give us a call or use the online chat for more information!

Have a Question or Need Help?
Do you have a question that you'd like to ask before signing up for a free trial? Feel free to call us at (512) 504-3151, e-mail us, or use the online chat located in the lower left hand corner of your screen.