Some people are weather wise, but most are otherwise..."

-Benjamin Franklin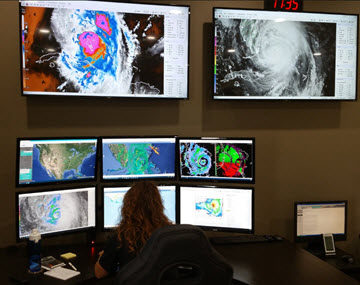 Our highly trained staff combines years of experience as well as the latest in meteorological technology to provide detailed, site specific and highly customized weather information, forecasts and storm warnings for a variety of industries across the U.S., Canada and Mexico. Our expert forensic & data staff provide pinpoint, highly accurate storm data for the insurance and storm damage restoration industries across North America.
Weather Forecasts & Custom Storm Warnings
Unlike many of our competitors that rely upon a vast database of computer derived weather information to feed to their customers, each weather forecast and storm warning from WeatherGuidance® is prepared by one or more live human beings that are dedicated to that customer 24 hours per day.
While we still prepare forecasts and storm warnings from scratch - make no mistake about our level of technology. Our state of the art facility located just outside of Austin, TX houses a vast array of technological resources, which allows us to provide fully customized service for virtually any location on Earth, 24/7/365. We also use that technology to present our weather forecast and storm warning information in a variety of ways, specifically designed for the needs of each customer.
Storm Data, Forensics & Insurance
On the storm data and insurance side of the house, our highly trained, professional staff of experts includes those who not only specialize in meteorology, but also forensic data analysis and computer programming. Some of our staff members on the Storm Data/Forensic side of the house have also worked directly for insurance companies, which gives us a unique insight into the industry and the types of data and informational concerns that it has.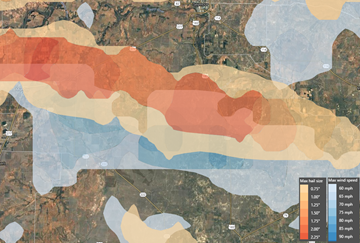 Reliability and Resiliency
Regardless of the services provided, emergency back-up power sources as well as several layers of redundancy in our communications suite ensure that we will be able to serve our customers no matter what circumstance may take place locally.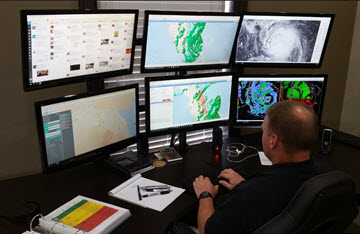 Why Hire Us?

If the weather poses a threat to the safety of your patrons and employees, has an impact on your bottom line, or if storm data and forensics are critical to your operations and business decisions, you can't afford not to stop and consider...
Real World Examples

We've gathered some examples of how our clients put our services to work every day. Feel free to take a look around. You'll even hear from some of them directly...