StormIntelligence Key Features: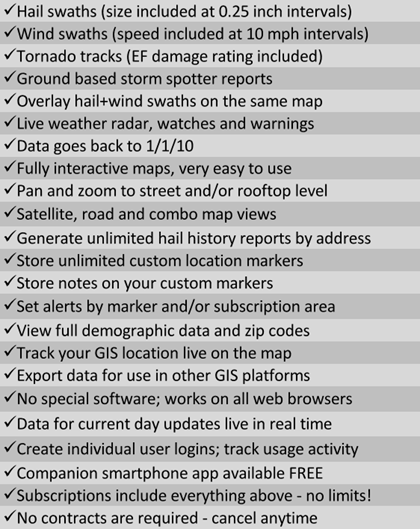 Subscription Level Pricing:
| | | | |
| --- | --- | --- | --- |
| Subscription Level | Monthly Rate | 6 Month Rate | Annual Rate |
| Metro Area | $49.95 | $269.73 | $539.73 |
| One State | $49.95 | $269.73 | $539.73 |
| Five States | $79.95 | $431.73 | $863.46 |
| National | $99.95 | $539.73 | $1079.46 |
•No contracts are required
•Pricing includes all features detailed on the above checklist (and new features added regularly)
•Six month and annual rates include a 10% discount (as shown above) for paying up front

Non-Subscription Pricing:
| | |
| --- | --- |
| Interactive map for a single date | $49.95 |
| Interactive maps for two dates | $79.95 |

Lost? Need Help?
If you're not quite sure what you need, or if you would like to learn more specific details about our service, please continue below on this page for much more information. Also, please feel free to call us at 512-504-3151 x5 or use the online chat (located in the lower left corner of this page) for more assistance.
StormIntelligence interactive maps in depth...
Our fully interactive maps document severe weather events such as hail, high winds, tornadoes, tropical storms and hurricanes as well as many other natural hazard events such as wildfires, earthquakes, lightning strikes, heavy rain and heavy snow. The maps are available both in real time as the weather happens, as well as on an "after the fact" basis only.
Whether you have a need for information in real time or after an event (or both), our StormIntelligence® interactive service provides the detailed information that you need every time!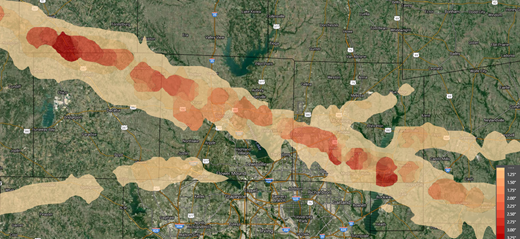 For over 25 years, members of the roofing, paintless dent repair, storm recovery and insurance industries have come to depend on us to provide detailed storm damage mapping across the U.S and Canada. Our company founder was one of the first in the field of meteorology to develop this type of technology back in the early 1990s, and we have continued to lead in this field ever since then.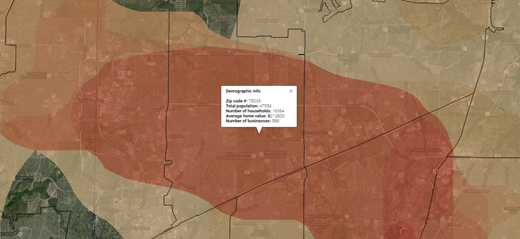 For example, it's no longer just about interactive hail maps. Now our suite of interactive hazard maps includes real time data on high winds, earthquakes, wildfires, heavy rain and heavy snow. Lightning data is also available as an add-on.
During the last few years it seems as though numerous companies have popped up out of nowhere to offer hail and other storm data mapping services. Rest assured that when you deal with us you'll be getting information that is developed, produced, quality controlled and supervised by our professional staff with over 25 years of experience in severe weather and other natural hazard analysis and mapping.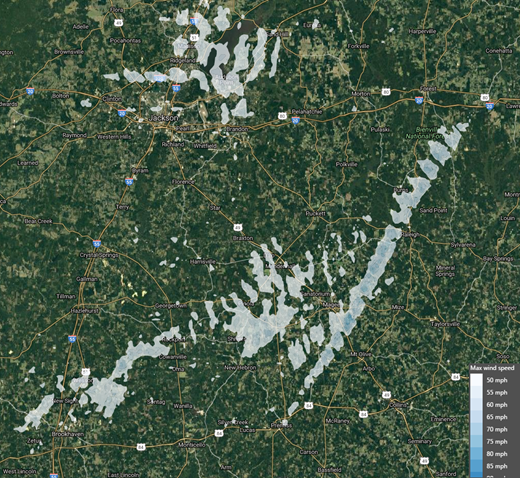 Numerous insurance companies rely upon our services not only to efficiently process claims, but also to dispatch catastrophe teams to hard hit areas well in advance of their competitors. This, combined with our over 25 years of experience in evaluating severe storms and producing hail, wind and tornado swath maps means that you can count on us to deliver the information you need, when and how you need it. To put it another way: we eliminate the "wild goose chases" so that you can concentrate on your business.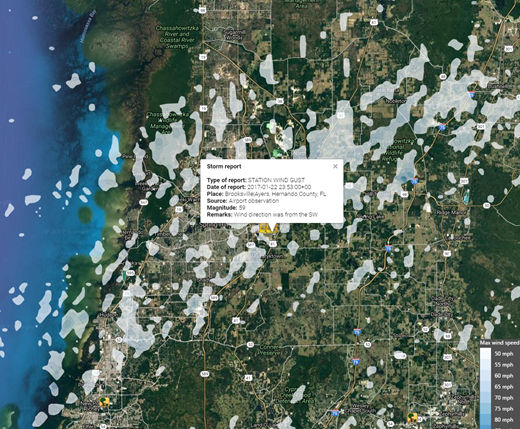 Please continue down this page to learn more about how our StormIntelligence® service can help make your business weather wise today!
If you are a home or business owner needing to prove that hail or wind damage took place at your location on a specific date or need help determining what that date was, our StormIntelligence® Verify service is probably best suited for what you need. Please click here to go to that page.
More Features

•High resolution, fully interactive hail, wind and tornado data maps based on the Google Maps platform (including ability to pan and zoom with street level detail)
•View weather radar indicated hail and wind tracks/swaths in real time or after an event
•View ground based storm reports in real time or after an event
•View tornado damage tracks with EF-ratings as soon as ground surveys are completed
•All data are quality controlled by our highly trained staff with over 25 years of experience in mapping significant weather and natural hazard events (not just computer programmers)
Even more features at no additional cost:
•Search for an address and add a place marker; add notes to the location marker and save them for future reference
•Click on swath area to reveal zip codes, number of homes per square mile, average value and other demographic information
•See "birds eye view" of actual roofs affected using Satellite basemap mode
•No special software required; compatible with all web browsers
•Works on any computer, laptop, smartphone or tablet device
•Ability to download data for viewing in Google Earth or most any other GIS mapping program
•Additional data layers included (also at no extra charge): heavy rainfall, heavy snowfall, wildfire data, earthquake data, tropical storm and hurricane data
Subscription plans also include:
•Hail outlooks for upcoming days
•Alerts for hail and/or wind damage in designated areas
•Unlimited access to archives (based on the subscription level)
•Unlimited access to a searchable database of hail, tornado and wind damage dates by location
•Generate an unlimited number of hail history reports for specific addresses, suitable for insurance claim documentation/verification purposes
•Live weather radar data (including animation option)
Powerful Tools Make Your Job Easier
Search for impacted commercial properties by simply entering a search term (like "hotels") and markers will be placed directly on the interactive map: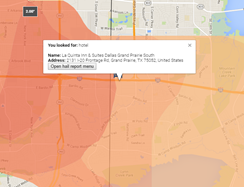 Click on the property marker to view the address. You can then generate a detailed hail history report with just one click: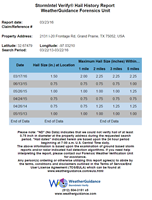 This same type of report can also be generated for residential addresses!
With just a mouse click, you can also view zip code boundaries in an impacted area, including detailed demographic information: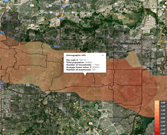 You also have the option to export a list of the impacted zipcodes to your computer, for uploading to mailing list firms, etc.
For more sample screenshots, take a look at our gallery.
Pricing Recap
One-Time/As Needed Purchase by Date:
•$49.95 for a single event date or
•2 event dates for $79.95

Regular Subscription Rates:
•Metro area or a single state = $49.95 per month*
•Regional (2-5 states) = $79.95 per month*
•Nationwide = $99.95/mo per month*
*Quoted rates are for monthly payments via credit/debit card. Discounts are available for multi-month subscriptions when paid in advance.

Not sure what coverage or format is right for you? Please give us a call or use the online chat feature for a specific quote based on your work area and operational needs.
Weather Data API / Custom Data+Mapping
From custom data sets to full application integration, we specialize in developing, hosting and supporting custom solutions for our clients on many different levels.
If you are looking for enterprise level weather data services including data ingestion via weather data API or similar services, please contact us at (512) 504-3151 and choose option 5, or feel free to use the online chat.
For enterprise level applications specific to the insurance industry, please visit this page.
Related Services
Feel like you're in the wrong place? If you're a home or business owner and you simply need to find out what date hail and/or wind damage may have taken place at a specific address (for insurance claim purposes), our StormIntelligence® Verify service is what you need. Please go here for details on that service.