A Few Quotes - Directly from Our Customers:



"I'm amazed at how accurate you guys are..."
-Earl Studdard, NCFDFC Baseball Complex (a SiteWarn/GameWarn customer)




"We didn't have access to our map page so Rob sat there on the phone and directed
my crew into the hardest hit areas so we could start working. I don't know of another service that would do that."
-Frank Phillips, Phillips Roofing (a HailIntel customer)

"Our event planning company has been using WeatherGuidance for all of our event forecasting for over a year. We could not possibly go without their services! Due to their extraordinary accuracy we have been able to move outdoor ceremony and reception times around to allow our couples the ability to have the outdoor wedding of their dreams. We have made believers out of several venues that have been hesitant to proceed with outdoor events in cases of inclement weather..."
-Cheryl Bailey, Yellow Umbrella Events (a Custom Forecast Solutions & SiteWarn customer)


Other Examples by Industry or Organization:


Not Exactly "Chamber of Commerce Weather"

A customer recently had a ribbon cutting scheduled for a particular day. More than 7 days ahead of the event we warned them that rain was likely - possibly heavy. A few days later, with our forecasts continuing to indicate the potential for heavy rain and thunderstorms, they decided to postpone the event. Over 1.5 inches of rain fell on the day in question.





They Didn't Have a "Field Day" with This One!

We provide storm warning and forecast services for school districts, among other clients. This particular school system had district-wide field days scheduled on a Thursday and Friday in late April. We had consistently been forecasting widespread thunderstorm activity for several days in advance of the event. As the Field Days drew nearer, the district consulted with us and then ultimately decided to reschedule the events for a future date. Over 2 inches of rain fell over the two days in question, and frequent lightning took place as well.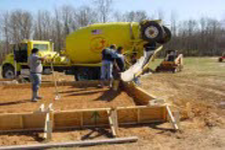 To Pour or Not to Pour - That Was the Question:

Pouring concrete is serious business. One simple mistake - like pouring on a day with heavy rainfall - can cost thousands of dollars and numerous hours of lost productivity. A client construction company recently had to decide whether or not to proceed with a large pour that had been scheduled on a particular date. We had been forecasting 1 inch or more of rain for several days, and one final phone conversation confirmed that a deluge was still in the offing. The client postponed the pour - and saved over $65,000 as 1.6 inches of rain fell right on schedule.





Sometimes the Best Advice Is To Do Nothing at All...

Hospitals have many considerations to make when it comes to severe weather preparation. One such client was recently placed under a "Tornado Watch" by the National Weather Service. Only one problem: there was no threat of a tornado in their area anytime during the valid period of the watch. We issued an advisory explaining that they were not in an area favored for tornado development. As a result, they decided to stand down and not execute their pre-disaster preparedness plans. Not even one drop of rain fell at their location during the duration of the government issued watch. The client estimates that the decision "not to act" saved them over $1,200 in additional salary cost and prevented the unnecessary alarm of hundreds of patients and their families.





Good Thing This One Wasn't "Gone With the Wind"

Outdoor shows, festivals, carnivals and fairs are particularly vulnerable to the weather - rain or shine. Our precision forecast service recently alerted a venue to the threat of 20-30 mph wind gusts on a sunny afternoon in April. Event management took extra steps to secure outdoor displays and a few vendors even removed particularly valuable pieces of artwork from exposed areas to avoid possible damage. The event proceeded without any damage or injury, although folks did have to hold on to their hats...





Case Study: Tropical Storm Debby. WeatherGuidance was the only firm to correctly forecast the track and impacts from the beginning. Please click on the satellite picture for more details.


Contact Us Today for More Information and a Free Trial Demonstration:
The above is just a small sampling of what we are able to do for our customers every day.
What can we do for you?

Call us today at (512) 504-3151 for a free, no obligation consultation and trial demonstration of our services. You have absolutely nothing to lose... and a whole lot to gain!

If you'd rather get started even faster, please complete our online Weather Risk Survey and we'll get started on setting up your free trial demonstration right away!